Jul 26 2021
Save time and achieve more control with Sypht's brand new features
By Dmitri Feigin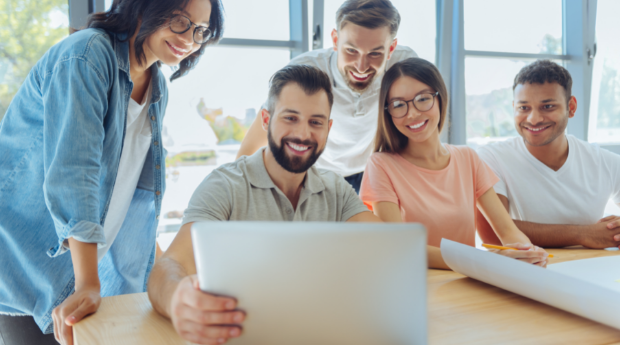 Over the last few months, we've been busy addressing our top feature requests in order to help our customers achieve two key outcomes:
Save me time by automating my low value daily document processing activities
Give me control of my document processing automation in an easy-to-use way
As a result, we've built out a number of new features with a focus on making it easy to 1) Upload documents into Sypht, 2) Group documents for ease and control, and 3) Export extracted data back out.
Uploading documents into Sypht
We have introduced email integration to make it easy to integrate Sypht with your business email or mail server, in order to automatically upload email document attachments into Sypht for further processing. Each customer has been set up with a private Sypht mailbox for their company, with the address intentionally anonymised as a security measure.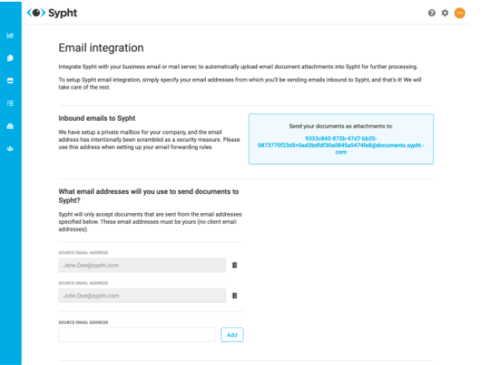 Group documents for ease & control
We have added the ability to group your documents using tags, making them easier to find & manage. You can assign multiple tags to a document, helping you create flexible document groups based on vendors, categories, projects, locations, use cases, processing status, or anything else!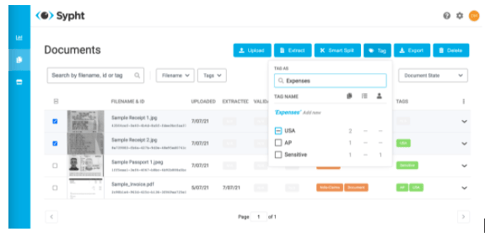 Tags can also be specified to provide a powerful way to control access to specific documents. Use access tags to segregate access to sensitive, project-centric, or client-centric information. To use access tags simply go to Settings > My Tags, select your tag and click on the access tags icon next to it, and lastly click on the "assign access tags" button to link tags to specific users that should have permission to view the respective documents with that tag.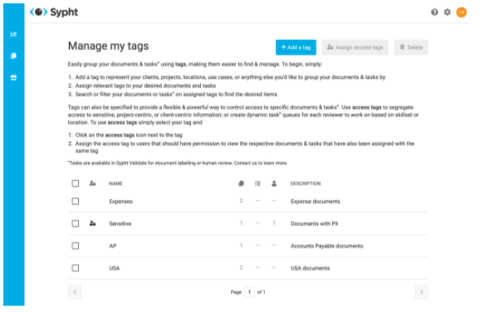 Lastly, tags are now also available for grouping and controlling access to human-in-the-loop tasks (available in Sypht "Human Review" add-on) for fixing extracted data at scale, enabling you to create dynamic queues for your human-in-the-loop operations team.
Export data out of Sypht
We have just released our improved export experience, introducing additional export controls for fine tuning your export settings, giving you the ability to specify:

What you'd like to export (including original document and/or extracted data)

Fields you'd like to export (from those that have been extracted)

Layout for how the data should look (for both header and line item fields, if present), and ability to save your layout settings for later

The .CSV delimiter format (comma, tab, column)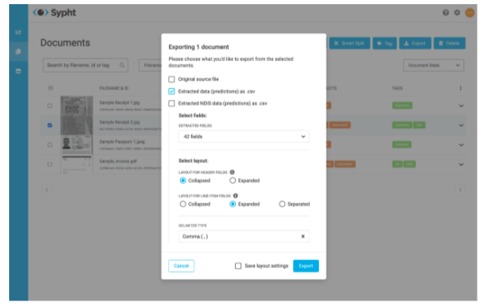 These controls take you a step closer to ensuring the data you get out of Sypht is clean, structured, and ready for use, minimising the need for post-processing data transformation.
With these enhancements in mind, the Sypht platform continues to move closer toward helping clients automate their end-to-end document processing workflow using AI. Keep an eye out for next month's newsletter where we'll be heroing more new features that the team is currently building out, including splitting bulk documents using AI, quick-fixing extracted data that AI got wrong, and a redesigned platform tour to help you get more out of Sypht!
Back to Sypht Blog